An introduction to Blind Motorisation
Motorised blinds have been growing in popularity as they have become much more affordable and much more intuitive in recent years.
There are many too many brands, options, features and accessories to cover here so we will focus on the brands available through Blinds in Print and the main product considerations.
Benefits of Motorisation
Below are some of the key benefits of motorisation.
Convenience
Motorised blinds add a level of ease and convenience with the touch of a single button. That doesn't make you lazy!
With a touch you can open or close your blinds - you can even sync your entire house to a single remote control! And now your motorised blinds can be integrated with your smart home - Amazon Alexa, Google Home and more are building motorised blind integrations every day. Future proof your smart home with a motorised blind.
From a convenience perspective, motorised blinds are also ideal for large windows, high-up or hard to reach blinds!
Energy Savings
Studies show that windows lose as much as 75 percent of energy compared to a wall space of similar size and shape. Blinds can help reduce solar heating during the summer and heat loss during the winter.
Motorised blinds specifically can then be automated to minimize the amount of energy your HVAC system uses by allowing the blinds to react independently to readings from temperature and sunlight sensors also connected to the smart hub. Using these connected technologies, your blinds will actually know when to close during the hottest part of the day to reduce HVAC usage or to open during a sunny day in the winter to allow the sun to heat a room naturally.
Imagine that - your motorised blinds could save you money!
Safety
Motorised blinds can also be automated to make your home less of a target. Burglars look for unoccupied, easy targets. Even when you're not at home, your blinds can move up and down on a set schedule to similar activity within the home.
But that's not the only safety benefit that you can look forward to, without any cords, you can also look forward to the piece of mind that comes with knowing that your children are safe from any choking or strangulation hazards.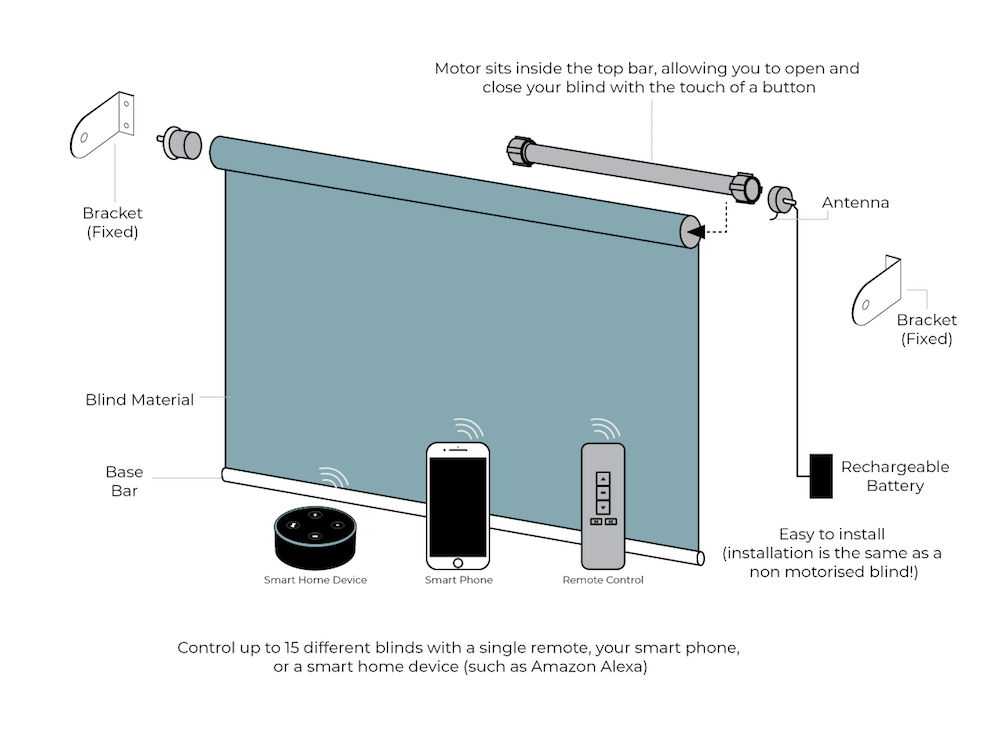 Considerations
Below are the main product considerations when choosing to motorise your blinds.
Blind Size and Location
The larger the blind, the harder it will be to operate by hand. Similarly, high-up or hard to reach blinds can be difficult.
Motorised blinds are ideal for large windows, high-up or hard to reach blinds.
With motorised blinds, you'll also increase the durability of your fabrics and fittings. Because you won't ever have to fiddle with cords or pull on the fabric when your blinds are motorised, you can extend the life of your window treatments, preventing every day wear and tear.
Wire vs. Wireless Operated
If you opt for a wireless (battery operated) system, you have the advantage that there are no wires required to be run to your window frame because the blinds are powered by battery. Not only does this make your room look tidier, it also makes your window blinds extra safe for young children, as cords can pose a dangerous threat to them.
Please comment below if you have any questions or concerns!
At Blinds in Print we offer the Automate Li-ion ARC 12V Motor - 1.1Nm - which is the best value wireless motor, suitable for the most common blind sizes, easy to install and even easier to use! We also offer the Automate Paradigm ARC Remote with the ability to control up to 15 blinds with 1 remote, and the Automate Li-ion Charger to recharge your blinds batteries. Save when you buy all 3 in our Motorisation Pack, available with all blinds.
At Blinds in Print we recommend our Motorisation Pack for your first blind - then you only need to purchase the Automate Li-ion ARC 12V Motor - 1.1Nm for any additional blinds (you can use the same remote and charger for additional blinds).
Motorisation really is a great way to get the most from your blinds - and it has never been cheaper or easier that it is now with Blinds in Print.